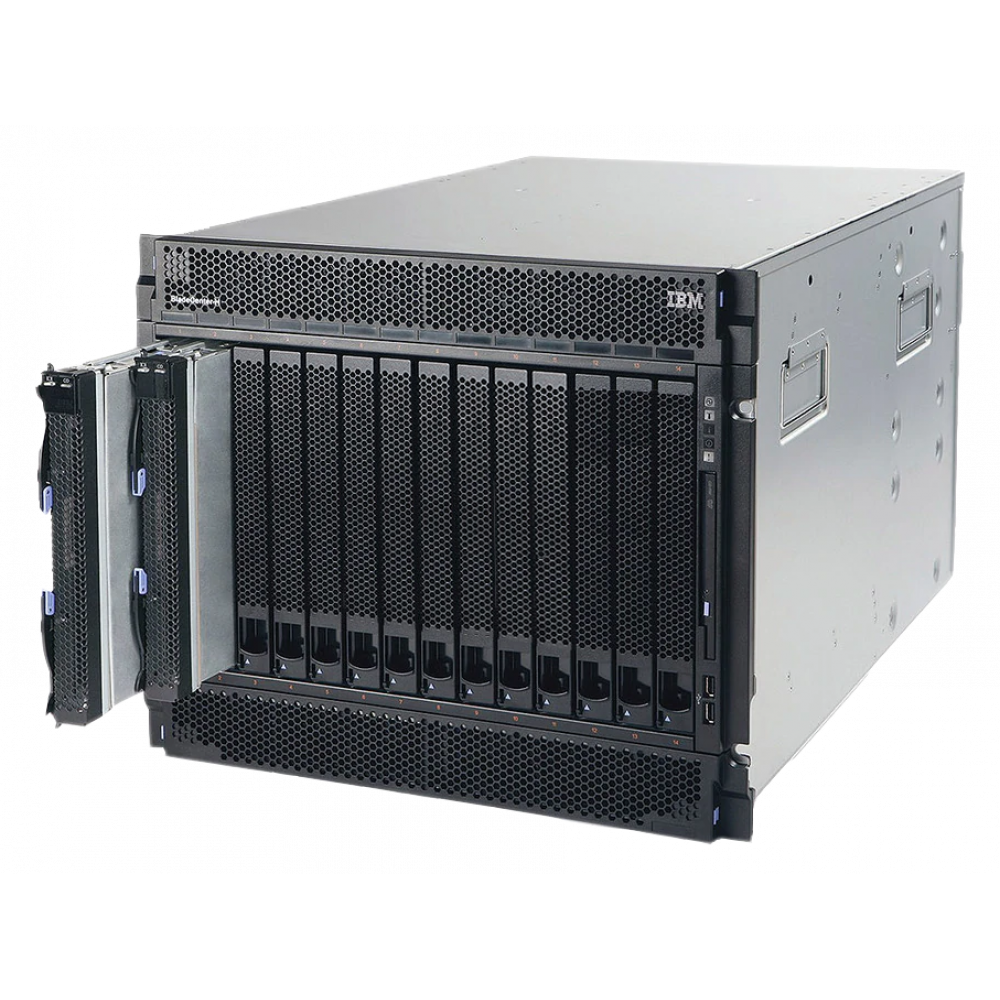 IBM BladeCenter H
Product Code:
IBM-Bladecenter-H
Item specifics
Manufacturer

IBM

Model

Lenovo - BladeCenter H Chassis

Product Type

Blade Enclosure

Form Factor

Blade Enclosure

Announced

9-Feb-06

Available

7-Mar-06

Archived

Rack Units

9U

Max Blades

14

Max Blades/Rack

56

Switch Technology

Ethernet, Fibre Channel, InfiniBand, SAS

Maximum Interconnect Modules

10, (4 high speed, 2 standard redundant, 2 standard)

Dimensions

Height: 40 cm (15.75 in) Width: 48.26 cm (19 in) Depth: 76.66 cm (30.18 in)

Weight

158.8 kg (350.1 lbs)

Max Power (Calculated)

783 W (4,511 CO2e kg pa)

Max Power (Theoretical)

9,600 VA (55,302 CO2e kg pa)

Max Heat (Calculated)

2,819 kJ/hr (2,672 Btu/hr)

Max Heat (Theoretical)

34,195 kJ/hr (32,409 Btu/hr)

Hot-Swap/Redundant Cooling Fans

Yes/Yes

Hot-Swap/Redundant Power Supply

Yes/Yes

System Management

AMM (Advanced Management Modules), IBM Director System Availability, IBM Director Capacity Manager, IBM Remote Deployment Manager, Predictive Failure Analysis, Light path diagnostics self-diagnosis panel

Warranty

30 Days (Dafault), 1, 2 & 3 Years (Upgradable)
Product Description
Introduction
BladeCenter® remains an innovative solution to running business solutions. BladeCenter H efficiently integrates servers, storage, networking, I/O, and applications, which enables organizations to build flexible IT infrastructures by using common building blocks. In 9U of rack space, the BladeCenter H chassis can contain up to 14 blade servers, 10 switch modules, and four power supplies to provide the necessary I/O network switching, power, and cooling to support the individual servers.
Figure 1 shows the BladeCenter H chassis.

Figure 1. The BladeCenter H chassis
Did you know?
BladeCenter H delivers high performance, extreme reliability, and ultimate flexibility to even the most demanding IT environments.
The chassis supports up to four traditional fabrics by using networking switches, storage switches, or pass-through devices. The chassis also supports up to four high-speed fabrics for support of protocols such as 40 Gb InfiniBand or 10 Gb Ethernet. The built-in media tray includes light path diagnostics, two front USB inputs, and an optical drive.
Key features
This section lists the key features of the BladeCenter H chassis.
Scalability and performance
The BladeCenter H chassis offers numerous features to boost performance and improve scalability:
Up to 14 servers with support for the latest generation of BladeCenter blades, helping provide performance and investment protection.
Virtual Fabric offers up to 18 I/O ports on a single-wide blade and up to 10 I/O modules in a single chassis, with the choice of Ethernet, Fibre Channel, FCoE, InfiniBand, iSCSI, and SAS connectivity.
BladeCenter H supports port speeds of up to 40 Gbps.
BladeCenter H provides up to 1.92 Tbps of switching capacity with up to four Virtual Fabric 10 Gb switches.
A flexible and scalable architecture with integrated servers and networking, storage, and management infrastructure supports your growing business needs.
Manageability and security
Powerful systems management features simplify local and remote management of the BladeCenter H chassis:
The high degree of integration in the BladeCenter H chassis reduces the need for server components, replacing numerous fans, KVM and Ethernet cables, power supplies, external switches, and other components.
The BladeCenter H chassis includes an Advanced Management Module (AMM). The AMM boosts administrator productivity and reduces skill level requirements, which can help reduce costs, improve overall productivity, and make administration easier, by providing a single point of control for the solution. The AMM supports many industry-standard and open protocols.
The AMM provides extensive security features, including role-based user authentication and access control, LDAP support, and SSH and SSL protocols for secure remote systems management.
IBM Systems Director remains a powerful and intelligent solution to manage BladeCenter systems along side rack mount and tower servers. Systems Director uses the hardware's capabilities by surfacing pertinent information about your blade server. The easy-to-use wizards provide step-by-step instructions and offer automated deployment capabilities.
IBM Fabric Manager simplifies the deployment of infrastructure connections by managing network and storage address assignments.
IBM FastSetup simplifies, automates, and speeds up the deployment process from server power-up to production, making BladeCenter easier to manage, deploy, and maintain.
Availability and serviceability
The BladeCenter H chassis provides many features to simplify serviceability and increase system uptime:
BladeCenter reduces the number of parts that are required to run the system. Sharing fans, power supplies, systems management, and ports means that there are fewer parts to buy and maintain, and fewer components that can fail and cause downtime.
Hot-swap components, such as the server, switches, power supplies, and blowers, ensure maximum uptime.
Redundant components, such as blowers and power supplies, ensure that systems can remain available even during hardware maintenance windows and failures.
The Predictive Failure Analysis (PFA) detects when system components operate outside of standard thresholds and generates proactive alerts in advance of possible failure, therefore increasing uptime.
Dual independent power and signal connectors to the BladeCenter H chassis midplane provide fault tolerance to increase uptime.
The light path diagnostics panel and individual light path LEDs quickly lead the technician to failed (or failing) components. These features simplify servicing, speed up problem resolution, and improves system availability.
A 3-year customer replaceable unit and onsite limited warranty and next business day 9x5 provides an additional peace of mind.
Energy efficiency
The BladeCenter H chassis offers the following energy-efficient features to save energy, reduce operational costs, increase energy availability, and contribute to a green environment:
The energy-efficient components and component-sharing design of the BladeCenter chassis provides ultimate power and cooling savings.
BladeCenter H helps reduce energy costs with leadership high-efficiency power supplies that are 94% efficient and 80 PLUS Platinum Certified.
The BladeCenter H uses hexagonal ventilation holes, a part of Calibrated Vectored Cooling™ technology. Hexagonal holes can be grouped more densely than round holes, providing more efficient airflow through the system.
IBM Systems Director Active Energy Manager™ provides advanced power management features with actual real-time energy monitoring, reporting, and capping features.
Locations of key components
Figure 2 shows the front of the BladeCenter H chassis.

Figure 2. Front of the BladeCenter H chassis
Figure 3 shows the rear of the BladeCenter H chassis

Figure 3. Rear of the BladeCenter H chassis
Standard specifications
Table 1 lists the standard specifications.
Table 1. Standard specifications
Components
Specification
Machine type
x-config: 8852, e-config: 7989.
Form factor
9U rack-mounted unit.
Server bays
14.
Servers supported
Intel Xeon processor-based HS12, HS22, HS22V, HS23, HS23E, and HX5 servers.
IBM POWER® processor-based PS700, PS701, PS702, PS703, and PS704.
Certain older BladeCenter servers.
Standard I/O bays
Six (Bays 1 - 6). Bays 1 - 4 support 1 Gb Ethernet, 4 Gb and 8 Gb Fibre Channel, and 3 Gb SAS I/O modules. Bays 3 - 6 support Ethernet-to-Fibre Channel bridge I/O modules.
High-speed I/O bays
Four (bays 7 - 10). Bays 7 - 10 support 10 Gb Ethernet, 10 Gb converged fabric, and 40 Gb InfiniBand I/O modules. With a Multi-switch Interconnect Module (MSIM), bays 7 - 10 support 1 Gb Ethernet and 4 Gb and 8 Gb Fibre Channel I/O modules.
Connectivity type
Ethernet, Fibre Channel, Fibre Channel over Ethernet (FCoE), InfiniBand, iSCSI, and SAS.
Management modules
Up to two redundant hot-swap Advanced Management Modules (AMM): One AMM is standard, and the second AMM is optional.
Optical drive bays
Media tray: One. There is support for an optional DVD-ROM or Multi-burner.
Ports
AMM: One DB-15 video port, two USB 2.0 ports for keyboard and mouse, one RJ-45 serial port, and one RJ-45 10/100 Mb Ethernet port for remote management.
Media tray: Two USB 2.0 ports.
Rear: One serial breakout port for optional serial breakout cable.
Cooling
Calibrated Vectored Cooling with two standard or enhanced redundant hot-swap blower modules (model dependent). You can have up to four fan packs with power modules (one fan pack per each power module).
Power modules
Up to four redundant hot-swap 2900 W (older models) or 2980 W power modules support two power domains; redundancy is provided within a pair in the same power domain. Power modules 1 and 2 supply power to server bays 1 - 7; power modules 3 and 4 supply power to server bays 8 - 14. (See the "Power modules" section for details.)
Hot-swap parts
Servers, I/O modules, management modules, media tray, power modules, and blowers.
Systems management
AMM, light path diagnostics, Predictive Failure Analysis, IBM Systems Director, and IBM Systems Director Active Energy Manager. Remote presence (graphics, keyboard and mouse, and virtual media) through AMM.
Security features
User-based security, user profiles, LDAP, SSH, and SSL.
Limited warranty
3-year customer-replaceable unit and onsite limited warranty with 9x5/next business day response time.
Service and support
Optional service upgrades are available through warranty upgrades: 9x5 or 24x7 4-hour or 2-hour response time, 1-year or 2-year warranty extension.
Dimensions
Height: 400 mm (15.8 in.), width: 483 mm (19.0 in.), depth: 711 mm (28.0 in.)
Weight
Minimum: 41 kg (90 lb), maximum 159 kg (350 lb)